I thought I would share a very fun new tool that I think I will get a lot of use out of. It's called the I-Top Brad Maker and it is made by Imaginisce. As you can see from the following picture, you can also purchase special punches that will make the perfect size paper circle to wrap around your brad. In this example I used the smallest 16mm "Brad Daddy".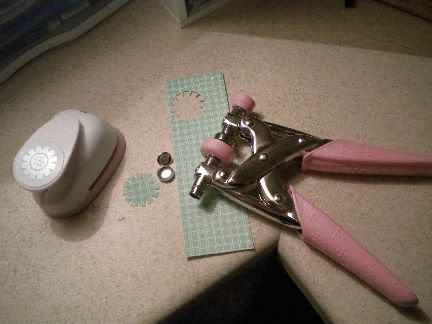 You simply place the Brad Daddy head on the clamp, then cover it with the pre-cut paper and clamp down. After that you will place the Brad Daddy bottom on, clamp again and you have created a nifty little embellishment. Think of the possibilities.....fabric, ribbon, patterned paper, photos....the ideas are endless. There is also a medium and large Brad Daddy available for more versatility.
Here is a cute little card I made using my newly created brad. To make this card I used my Cricut Expression and the Sweethearts cartridge. Combined with some scrap paper and decorative ribbon I bought from Archivers...and voila! I have created a sweet little card to give to a friend.