If you were looking for the Fabulous 40 Blog Hop...click
here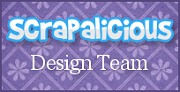 We will be having a
weekly challenge
on the store
blog
Scrapalicous USA every Wednesday starting May 4th, 2011. Please join us on this adventure as we all make new friends and see wonderful inspiration. I recommend you pop over there and join the followers list so you can be notified first when these challenges begin. There will be awesome prizes! In fact...pop over and see the details because Cindy is giving something away this Saturday!
Here is a card I created using one of the
stamps
now for sale at Scrapalicious!
Now here is a little information about me. My name is Shelley and I have been creating, drawing, painting or otherwise engaged in artistic adventures as far back as my 1st memory with a crayon. The pristine white front and back pages of my mothers books were never safe as I would resort to them when I ran out of other options to do my drawings and doodles. Luckily for me, she encouraged me by supplying me with paint boxes, art books and pencils and my father later enrolled me in oil painting classes to further develop my mind and love of color and putting down the pictures in my mind. In growing up years my main ambition was to use these talents somehow to bring enjoyment not only to me but hopefully to others too.
Over the years I have created, designed and taught decorative painting woodcrafts for boutiques as well as designed rubberstamps for many companies. My latest venture has been in the launch of my own modest line of stamps at
Shelley Bean Stamps
such as the one used in my example above. Here at this blog I like to share all the many different creations I come up with or learn from others. I hope you come back and visit often and if you are not already a follower, I would be flattered should you decide to be one now. I enjoy making new friends and visiting other design blogs where we all share the common love of crafting.
Here is the lineup of ladies in case you get lost along the way.
Scraplicious Blog
Gerda
Jenni
Kassidy
Raven
Shelley
Scraplicious Store
Please visit all of the ladies and show them some love! Thank you all so much for hopping along. Now, to find all the amazing deals and prices on your scrapbook and card making creations hop on over to the
Scrapalicious Store!